We're roughly 36 hours away from the close of the climate summit in Paris. Over the past two weeks, world leaders have negotiated an international agreement to limit the warming of the planet—an agreement that could frame the global agenda on the issue for the next decade and beyond.
Meanwhile, the web flooded with climate-centric stories. We decided to celebrate the final days of the conference by rounding up ten of the most fascinating sustainability news stories from the past two weeks.
Download an overview of the bachelor's, master's, or certificate program.
UW Extended Campus will not share your personal information. Privacy Policy
---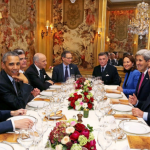 "If politicians like President Obama, Chinese President Xi Jinping, and Indian Prime Minister Narendra Modi didn't think a positive outcome was likely, they wouldn't have made the trip." Unlike past climate conferences, the goal of the Paris climate summit isn't to produce a formal treaty. Instead, the nations have agreed to hold a huge potluck dinner of sorts, "in which each country brings what it can."
---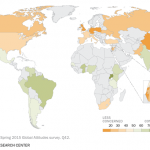 Pew Research polled 40 nations and found that a global median of 54 percent consider climate change a serious program. Yet, people in the U.S. and China, whose economies are responsible for the greatest annual carbon dioxide emissions, remain the least concerned.
---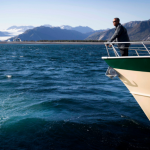 "During his 2012 re-election campaign, he barely mentioned global warming, but the issue has become a hallmark of his second term." As Obama tried to rally international support for limiting greenhouse gases last week, Republicans planned to fight his climate agenda in Congress. Ultimately, if an agreement is brokered in Paris, it—and Obama's climate legacy—will rest in the hands of his successor.
---
---
For hundreds of years, humanity survived without economic growth. Could modern civilization survive such an experience again? While many activists argue that it's necessary to stop relentless destruction to the environment, this writer says, "The answer, simply, is no… Zero growth gave us Genghis Khan and the Middle Ages, conquest and subjugation… More than how to stop growth, the main question brought out by climate change is how to fully develop and deploy sustainable energy technologies."
---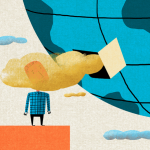 Climate change is complicated. Sometimes it feels impossible to get straight answers to even the most common questions about the issue. Cue: this article. Even Wikipedia can't provide concise, cut-through-the-bull answers like these. Get reading.
---
"The private sector…will have a seat at the table throughout this process." President Obama repeatedly made this point during the climate change talks. As of last week, 154 companies, including corporate giants like Amazon and JetBlue, have joined a pledge to cut waste and reduce their carbon footprints.
---
"'I am afraid the attacks have killed the festive atmosphere the COP would have had,' said Naziha Mestaoui, an artist who covered the Eiffel Tower with projections of stylized trees." More than 160 environmental events and shows were scheduled around the Paris area, including street art and exhibitions, but many were canceled or relocated in light of the recent attacks.
---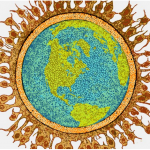 At the climate summit, world leaders are in the spotlight. But what you may not see is the large body of supporting researchers and scientists in attendance. Several from UW-Madison, including a plant pathologist, a medical doctor, and a law professor, traveled to Paris to share their unique expertise in hopes of influencing the negotiations. Sumudu Atapattu, senior lecturer at UW Law School, said, "People are starting to see that it's a public health issue, it's a security issue. It's really huge."
---
Very few advanced democratic countries still question the science of climate change and whether we should do something about it. The U.S. is one of those few. Debates in Washington over the past week have shaped perceptions of the U.S. at the Paris conference. How do people from other countries see Americans? "Like polluters, I guess" was one response.
---
More Stories from the UW Sustainable Management Blog
Pope Francis Is Right on Dangers of Climate Change, Wrong on Policy Options
Where Passion and Water Meet: A Student's Journey to Leadership and Success in a Sustainability Career
Faculty and Students Recap Chile Travel Sustainability Course: 'A Truly Life-Changing Experience'