Seeing a different way of life humbles you, broadens your views, and slowly chips away at preconceived notions. Travel is the ultimate education. That's the idea behind the upcoming Chile Travel Course, a sustainability course organized by a University of Wisconsin Sustainable Management faculty member.
In August, UW System students will embark on the whirlwind two-week adventure in Santiago, Chile, which includes tours to organic vineyards, sustainable businesses, museums, and an international conference focused on green innovation.
If you attend as a student enrolled in the UW Master of Science in Sustainable Management program, you will earn credit toward your degree. Undergraduate students in the program are also welcome.
The sustainability course (August 8 to 24) will be led by two distinguished faculty members: Dr. John Katers from the UW Master of Science in Sustainable Management and Dr. Alex Godoy from the Universidad del Desarrollo in Santiago.
Download an overview of the bachelor's, master's, or certificate program.
UW Extended Campus will not share your personal information. Privacy Policy
An international passion for sustainability
John and Alex have known each other a relatively short time, but they are like brothers separated by 5,500 miles and have remarkably similar worldviews, John says. Since 1999, John has taught courses on pollution control and prevention, renewable energy, resource management, and other environmental topics at UW-Green Bay.
He and Alex met three years ago when Alex came to UW-Green Bay through an International Visiting Scholars program. Alex later made a return trip to Green Bay and taught courses in environmental science and Spanish; his highly energetic and knowledgeable nature left a lasting impression on the faculty and students in those departments.
Alex came back to Wisconsin last spring with a group of 17 students from Santiago, the capital of Chile with a population of five million people. Like many large cities, Santiago suffers from a host of sustainability challenges, mainly air and water pollution. Alex and his students were particularly interested in Green Bay's Fox River—which was contaminated by paper mills and other industries for decades—and learning how the city was able to move forward with cleaning it up.
Now Alex wants to return the favor by hosting Wisconsin students and teaching them about Chilean sustainable practices. "Alex is a wonderful person and I know he's going to roll out the red carpet to make this a fantastic trip," John says.
The country with seven climates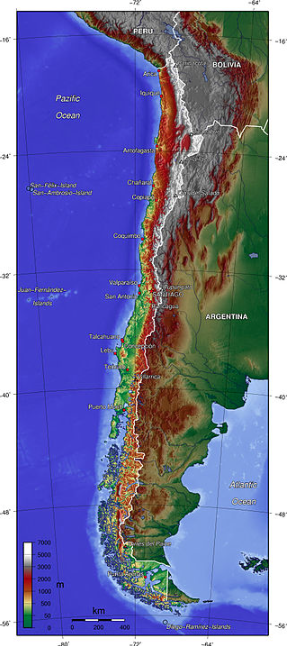 Chile occupies a long, narrow strip of land in South America between the Andes Mountains and the Pacific Ocean. If you traveled from one end to the other, you'd encounter rich forests, grazing lands, volcanoes, a labyrinth of fjords, twisting peninsulas, Easter Island, and the driest desert in the world. Basically, it's an adventurist's dream.
Chileans call their country país de poetas ("country of poets"), one of their most famous being Nobel Prize winner Pablo Neruda. But the country is also known for the violent authoritarian military regime that ended in 1990. After seizing control of the government in the seventies, Augusto Pinochet led a brutal suppression of all political dissidents, resulting in 3,000 people dead or missing and 200,000 forced into exile.
Chile is still haunted by this relatively recent era, but in the last 25 years, the country has restored its democratic government and the economy has flourished. Today's Chile is one of the most stable and prosperous nations in South America, and it's also one of the most sustainable. According to the 2014 Environmental Performance Index, Chile ranks 29th out of 178 countries—above all other nations in the Western Hemisphere except Canada.
Most of the sustainability course will take place in Santiago, a thriving metropolis surrounded by mountains and vineyards. It's the cultural, political, and financial center of Chile with countless things to see and do.
The sustainability course in a nutshell
John and Alex have packed the 17-day course with many exciting trips and tours, but students will also have plenty of time to explore the city's winding streets and art deco buildings. For more about the trip's specific tours and activities, see the tentative itinerary.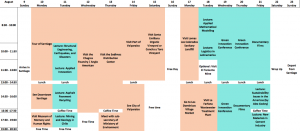 John would like to have 15 students participate in the trip. He shared the course information with Sustainable Management students as well as the business and Spanish departments at UW-Green Bay. Students do not need to know Spanish to go on the trip—all tours and most lectures will be in English—but it would be helpful, John says.
Attendees will spend two days at the Green Innovations Conference at the Universidad del Desarrollo, a private university of nearly 10,000 students. "I would love to get a couple master's students to present their capstone project," says John, who will be giving a lecture on his own research at the conference. "To present internationally—that is a great opportunity for a student!"
The group will be traveling outside Santiago as well. Valparaíso, a seaport nicknamed the "The Jewel of the Pacific," is a shining beacon of Chilean culture with its colorful abbeys and street artists—and a UNESCO World Heritage site. Students will spend an entire day there.
Other highlights include a meeting with the sub-secretary of the Ministry of Environment and tours of a wastewater treatment plant, a landfill, a mine, and a distribution center similar to Amazon. Alex will bring the group to vineyards that surround the city. He is currently researching the life cycle of plants grown in organic and inorganic vineyards to determine the environmental impact of changing to organic. Of course, John adds, there will be a tasting at both.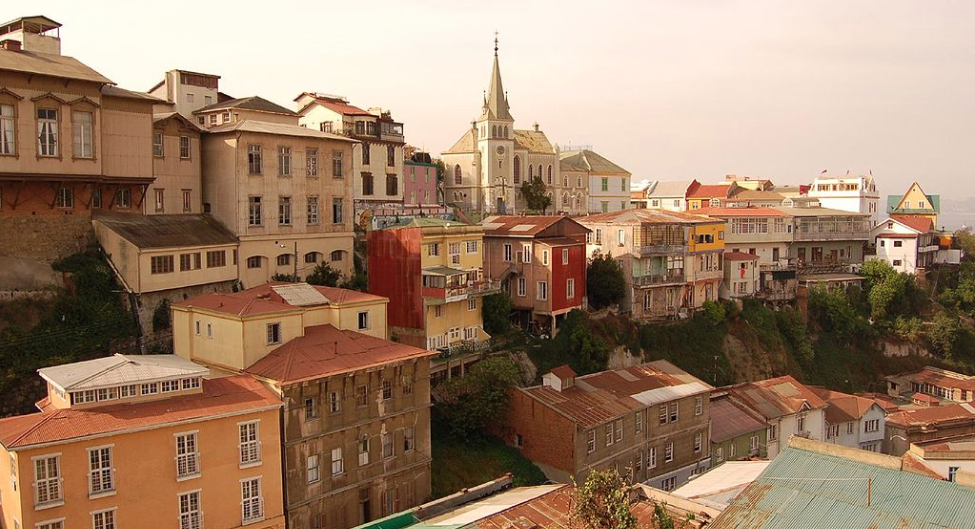 The cost of the trip is $5,500. It covers airfare, accommodations, excursions, and transportation to and from the hotel. "The hotel is located in the financial district—one of the safest parts of the city," John says.
The best part is Sustainable Management master's students can use the trip as one of their electives. "So instead of paying $2,050 in tuition, they can pay $5,500 and get 17 days in Chile. And this trip is open to anybody," John says. "If you pay the fee, you're in." So if you want to bring your partner, the more the merrier.
A one-of-a-kind experience
John has traveled widely. Many years ago, he took his oldest son—who was 11 years old at the time—to Panama. To this day, his son says it was the best two weeks of his life. Now 16, he will also be going on the Chile trip and hopefully honing his Spanish skills. "I think no matter how old you are, you have the same reaction to seeing what life is like in faraway places. It's fascinating!"
John is looking forward to seeing that same excitement in the students that sign up for the trip, especially those who have never been to South America or seen how businesses operate in a foreign country.
"We will get to visit an emerging economic center in South America, and students will have opportunities to talk about business and environmental issues and learn how they deal with them," John says. "It's a great country, and the diversity of what we will experience on this trip is going to be incredible."
The official deadline to apply for the course was March 1, but if you still want to attend, email John at katersj@uwgb.edu. The deadline has been extended to March 30 to allow more students to sign up. If you can't catch the trip in August, John hopes to organize the trip every other year. So start planning now for the 2017 Chile Travel Course.
To find out more about curriculum or how you can earn a UW bachelor's or master's degree in Sustainable Management, visit the main page of the program's website.
Read more about sustainability careers
Where Passion and Water Meet: A Student's Journey to Leadership and Success in a Sustainability Career
U.N. Climate Summit forecasts a big green future for business—and sustainability careers
From Auto Plant to Mushroom Tower: One Sustainable Management Graduate's Path to an Exciting New Career