Pay the same tuition, in or out of state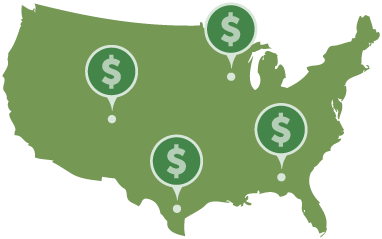 Tuition for the online UW Sustainable Management program is the same whether you live in Wisconsin or out of state, and financial aid is available for students who qualify.
There are no additional course or program fees, however, textbooks are purchased separately and are not included in tuition. As this is an online program, you will not pay segregated fees (fees in addition to tuition that cover the cost of student-organized activities, facility maintenance, and operations) and you will not be charged a technology fee. If software or special technology is required in one of your courses, it will be provided to you and is included in your tuition.
Tuition
Bachelor of Science/Undergraduate Certificate: $450 per credit
Master of Science/Graduate Certificate: $750 per credit
Financial Aid
Financial aid may be available to you as a bachelor's or master's degree-seeking student and is awarded by your home campus (see below for an explanation of home campus), and may include grants, loans, and scholarships. Students enrolling in certificate programs may be eligible for financial aid (refer to your home campus for more information).
Contact your home campus financial aid office for details:
Please check with your home campus regarding minimum credits required to qualify for financial aid as a full- or part-time student.
To apply for federal and state financial aid, fill out the Free Application for Federal Student Aid (FAFSA). Completing this form is the first step when applying for federal or state financial aid. Even if you haven't made a final decision about whether or not you will apply to this program, you may want to consider completing the FAFSA.
Other Ways to Pay for College
As a returning adult student, you may consider additional sources to help with the cost of your online degree:
Private education loans—available in addition to federal grants and loans. Private loans must be repaid.
Tuition reimbursement—a benefit offered by companies to their employees. Check with your human resources department to find out if your company offers this benefit.
Scholarships—awarded based on academic achievement or other criteria; financial need is sometimes taken into account. Scholarships do not need to be repaid.
Military benefits—available to eligible veterans and current members of the military.
Education tax benefits—talk with your financial advisor about possible tax benefits.
UW Sustainable Management Scholarships
The UW Sustainable Management program offers scholarship opportunities to new and continuing bachelor's and master's students to help pay for their education. These scholarships are available each fall and spring semester; the deadline for submission is the first day of the semester.
What is a Home Campus?
The UW Sustainable Management program is a partnership of UW Extended Campus and UW-Green Bay, UW-Oshkosh, UW-Parkside, UW-River Falls, UW-Stout, and UW-Superior.
When you apply, you will need to choose a home campus. Your home campus is the institution from which you will receive financial aid, advising, career services, and your diploma.
Your choice of home campus is a matter of personal preference. Our campus partners share equal responsibility in the program, and you will take courses taught by faculty from all program partner campuses. As a student you will complete your degree or certificate entirely online. Your educational experience will be the same regardless of your campus choice, and your degree and transcripts will be identical to those earned by on-campus students.
---
Have questions about UW Sustainable Management online programs? Talk to an enrollment adviser.